2ClicksAway.com was founded in 2010 and since that time has been offering watches at discounted prices. The site was started by a 35 year veteran in the watch industry who decided it was time to put their knowledge to work and create a site where watch lovers can go to find daily deals on watches.
2clicksaway.com currently ranks #265 amongst sites offering online deals -- The Daily Promo ranks #264. In the Jewelry and Watches category, 2ClicksAway ranks at #23 -- My1DayDeal ranks #22. Amongst all deal a day sites, 2ClicksAway ranks #92 -- The Daily Promo ranks #91.
Top 3 Sites Like 2ClicksAway

MyWatchDeal
Sells watches.

19dollarwatch
Offers daily watch deals.

A Watch For You
Offers specials on watches. Find watch brands like Pulsar, Fossil, Seiko,...
More About 2ClicksAway
Site Snapshot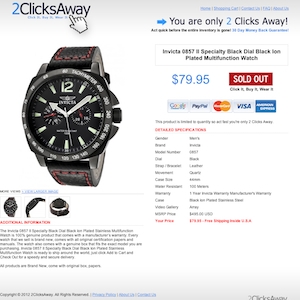 Loaction of 2clicksaway.com's Daily Deal page:
www.2clicksaway.com