Located in the heart of Diamond district New York City, My1daydeal.com offers a variety of jewelry -- everything from earrings, pendants, rings and other accessories in Silver and gold with Diamond, Tanzanite, Amethyst and Marcasite -- at highly discounted prices.
My1daydeal.com currently ranks #263 amongst sites offering online deals -- Outdoor Daily ranks #262. In the Jewelry and Watches category, My1DayDeal ranks at #22 -- A Watch For You ranks #21. Amongst all deal a day sites, My1DayDeal ranks #90 -- Outdoor Daily ranks #89.
Top 3 Sites Like My1DayDeal

End of Retail
Endofretail.com (AKA Inspiredsilver.com) offers a large variety of jewelry...

Joolwe
Offers jewelry deals.

SuperJeweler
Expect to find ring, necklaces, bracelets and more. Please also see...
More About My1DayDeal
Site Snapshot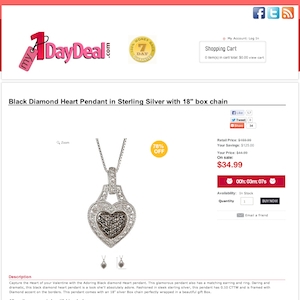 Loaction of My1daydeal.com's Jewelry Daily Deal for you.... page:
www.my1daydeal.com