Do you dislike it when merchants take forever to ship out merchandise? Well, it seems the founder of MyWatchDeal dislikes this as well because on their "about" page, they have stated that their goal for the site is to "offer a great watch at a great price and ship it out quickly". So if you are looking to buy a watch from a company that understands the importance of shipping out items on time, Mywatchdeal.com seems like a good choice. As far as the deals are concerned, the company has stated that they offer quality brand-name time pieces at deeply discounted prices -- and that they only purchase from "reputable dealers and wholesalers, ensuring that all of our watches are Brand New, 100% genuine and come with all of the original materials".
Mywatchdeal.com currently ranks #236 amongst sites offering online deals -- Dept of Deals ranks #235. In the Jewelry and Watches category, MyWatchDeal ranks at #18 -- Greattiming ranks #17. Amongst all deal a day sites, MyWatchDeal ranks #74 -- JewelryDOD ranks #73.
Top 3 Sites Like MyWatchDeal

2ClicksAway
Offers deals on watches.

Dept of Deals
Deptofdeals.com offers deals mainly on watches, but also on coins.

NextDayWatches
Offers specials on watches. Find name brand watches like Citizen, Seiko,...
More About MyWatchDeal
Site Snapshot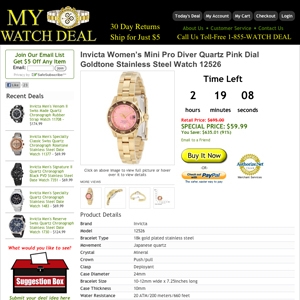 Loaction of Mywatchdeal.com's Today's Deal page:
www.mywatchdeal.com