RedTag is a daily deal site that sells home goods, technology, electronics, jewelry and fashion at deeply discounted prices. RedTag is owned and operated by uBid.com which is a popular auction site which was founded in 1997. While many compare uBid to Ebay due to eBay's popularity in the online auction space, uBid is actually different in many ways. For example, on eBay just about anyone can sell their merchandise. On uBid, the application process is a bit more complicated and restricted which is probably why eBay has a larger selection of items.
Redtag.com currently ranks #130 amongst sites offering online deals -- Specialty Store Services ranks #129. In the General Merchandise category, RedTag ranks at #41 -- SSWW ranks #40. Amongst all deal a day sites, RedTag ranks #23 -- The Wine Spies ranks #22.
Top 3 Sites Like RedTag

DailySteals
DailySteals.com is a one deal a day site. You will mainly find electronics,...

Rakuten
Offers deals in many different categories. Some are offered by buy.com...

Woot
Woot.com offers daily deals in a wide range of categories.
More About RedTag
Site Snapshot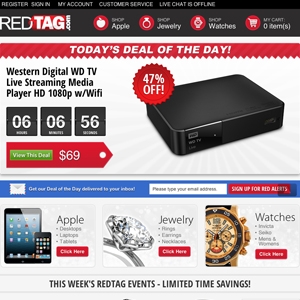 Loaction of Redtag.com's TODAY'S DEAL OF THE DAY page:
www.redtag.com