MoonLightSpecial is owned and operated by WrightWay Music Products which is located in Cataula, GA. In addition to MoonLightSpecial.com, WrightWay Music Products also operates GoingToday. While MoonLightSpecial mainly focuses on offering music related items, you will occasionally find other types of items on the site.
Moonlightspecial.com currently ranks #273 amongst sites offering online deals -- 1DaySports ranks #272. In the General Merchandise category, MoonLightSpecial ranks at #82 -- Dealko ranks #81. Amongst all deal a day sites, MoonLightSpecial ranks #98 -- 1DaySports ranks #97.
Top 2 Sites Like MoonLightSpecial

Musicians Friend
Offers deals on musical equipment.

American Musical
Offers deals daily on musical instruments; find guitars, DJ equipment,...
More About MoonLightSpecial
Site Snapshot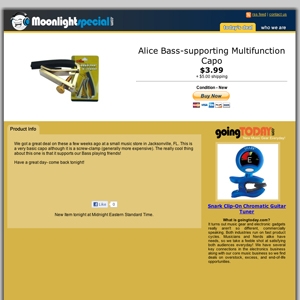 Loaction of Moonlightspecial.com's Daily Deal page:
www.moonlightspecial.com