GoingToday is a one deal at a time site that offers music related items. The owners of the site also own and operates MoonLightSpecial, as well as WrightWay Music Products which is a retail music store that was founded in 1978 and is located in Cataula, GA.
Goingtoday.com currently ranks #170 amongst sites offering online deals -- Baby Half Off ranks #169. In the Musical Instruments category, GoingToday ranks at #3 -- American Musical ranks #2. Amongst all deal a day sites, GoingToday ranks #41 -- Baby Half Off ranks #40.
Top 2 Sites Like GoingToday

American Musical
Offers deals daily on musical instruments; find guitars, DJ equipment,...

Musicians Friend
Offers deals on musical equipment.
More About GoingToday
Site Snapshot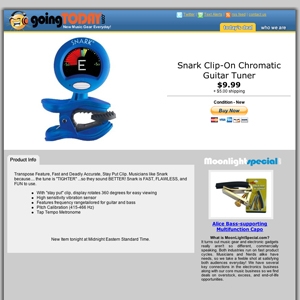 Loaction of Goingtoday.com's New Music Gear Everyday! page:
www.goingtoday.com