Handhelditems.com was founded in 2003 and is owned and operated by IGG Factory, Inc. which are located in City of Industry, CA. As their name implies, HandHeldItems offers a large selection of electronic accessories and gadgets. Whether you're looking for accessories for your phone, game console, tablet, MP3 player or laptop, there is a good chance that you will find it here -- and on sale.
Handhelditems.com currently ranks #128 amongst sites offering online deals -- Mikasa ranks #127. In the Cell Phones and Accessories category, HandHeldItems ranks at #1.
Top 3 Sites Like HandHeldItems

All4Cellular
Offers cell phone parts and accessories; bluetooth headsets, batteries,...

Mobile.laalo
Offers daily deals on mobile devices and accessories.

CellHut
On Cellhut you will also find cell phone accessories and electronics.
More About HandHeldItems
Site Snapshot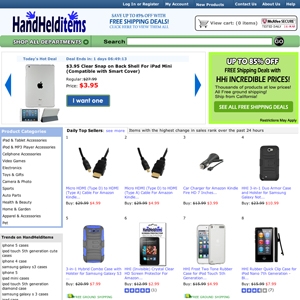 Loaction of Handhelditems.com's Today's Hot Deal page:
Link listed on the homepage (on www.handhelditems.com)