Based out of Glen Cove, NY and founded in 1996, CellHut strives to offer the latest wireless products at the best prices. With a large selection of unlocked cell phones, latest smartphones, accessories, laptops and electronics listed on the site, as well as numerous daily deals offered at up to 50% off retail, CellHut is definitely worth keeping an eye on.
Cellhut.com currently ranks #178 amongst sites offering online deals -- Gamedealdaily ranks #177. In the Cell Phones and Accessories category, CellHut ranks at #3 -- All4Cellular ranks #2.
Top 3 Sites Like CellHut

All4Cellular
Offers cell phone parts and accessories; bluetooth headsets, batteries,...

HandHeldItems
Daily deals on accessories for handheld devices; Find accessories For iPad,...

Mobile.laalo
Offers daily deals on mobile devices and accessories.
More About CellHut
Site Snapshot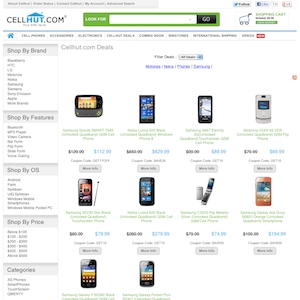 Loaction of Cellhut.com's Daily Deal page:
www.cellhut.com/deals.asp