Deptofdeals.com was launched in 2010 and is located in Sartell, MN. The site mainly focuses on selling watches at up to 90% off retail. In addition to watches, Dept of Deals also has a "coins" category listed on their site.
Deptofdeals.com currently ranks #235 amongst sites offering online deals -- NewDaVincis ranks #234. In the Jewelry and Watches category, Dept of Deals ranks at #18 -- Greattiming ranks #17. Amongst all deal a day sites, Dept of Deals ranks #71 -- Barking Deals ranks #70.
Top 3 Sites Like Dept of Deals

MyWatchDeal
Sells watches.

Jomashop
Offers specials on watches.

A Watch For You
Offers specials on watches. Find watch brands like Pulsar, Fossil, Seiko,...
More About Dept of Deals
Site Snapshot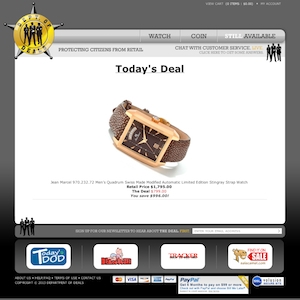 Loaction of Deptofdeals.com's Deal of the Day page:
www.deptofdeals.com