Delphiglass.com/dailyDeal (
Crafts
)

Delphi Glass was founded in 1972 by 'the Daniels family' and what started out as a small shop for glass supplies steadily became one of the largest in the country. With over over 30,000 art supplies and a 45,000 square foot distribution center, Delphi Glass is definitely the place to check first when it comes to stained glass supplies. The Delphi Glass site also offers plenty of deals and their daily deal page highlights some of the best ones. The discounts range between 20% and 70% off, but they don't last very long and may even sell out early. For this reason, it's always good to keep a close eye on them.
Delphiglass.com/dailyDeal currently ranks #115 amongst sites offering online deals -- Budovideos ranks #114. In the Crafts category, Delphi Glass ranks at #4 -- Missouriquiltco ranks #3.
Top 3 Sites Like Delphi Glass

Fabric
Sells apparel fabric, home decor fabric and quilting fabric.

The Dizzy Sheep
Dizzysheep.com offers yarn deals.

Peachy Cheap
Scrapbooking supplies daily deal site.
More About Delphi Glass
Site Snapshot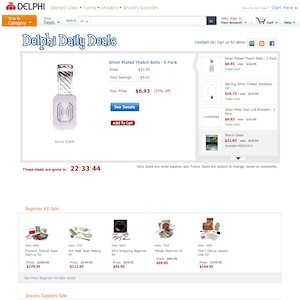 Loaction of Delphiglass.com/dailyDeal's Delphi Daily Deals page:
www.delphiglass.com/dailyDeal