Missouriquiltco.com/shop/dailydeal (
Crafts
)

Missouriquiltco.com is owned and operated by Missouri Star Quilt Company LLC. which is a family run business that all started in 2008 when 'the Doan family' decided to start the Missouri Star Quilt company on a very tight budget. Since the company was situated in a town that had a population of only 1100 people, it was very difficult for them to generate enough revenue by selling quilting supplies only to locals. For this reason, the company decided to expand into the online world. Of course starting an online business with very little money to spend on advertising isn't easy either and the only alternative is being creative. Which is the reason why the owners decided to take advantage of free services such as YouTube to help grow their online community.
With Jenny Doan teaching quilting techniques on YouTube, Missouri Star Quilt Company quickly became a hit and a fan favorite. Of course competitive prices also had a lot to do with their success. For example, the Quilter's Daily Deal which offers huge discounts on quilting supplies every day is one of the most anticipated deals on the web. As Missouri Star Quilt Company explains it "Another factor in the company's rapid success was the Quilter's Daily Deal. It is an extreme quilting deal (30%-100%) every single day of the year. In the beginning, word-of-mouth news about the deal brought thousands of customers to the website. This and our $5 flat rate shipping would be well received by quilters.".
Missouriquiltco.com/shop/dailydeal currently ranks #83 amongst sites offering online deals -- Cigar ranks #82. In the Crafts category, Missouriquiltco ranks at #3 -- ScrapbookSteals ranks #2.
Top 2 Sites Like Missouriquiltco

Fabric
Sells apparel fabric, home decor fabric and quilting fabric.

The Dizzy Sheep
Dizzysheep.com offers yarn deals.
More About Missouriquiltco
Site Snapshot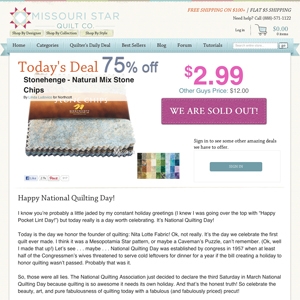 Loaction of Missouriquiltco.com/shop/dailydeal's Quilter's Daily Deal page:
www.missouriquiltco.com/shop/dailydeal