Wired For Wine was founded in October 2007 in Rutherford, New Jersey by Evans Gebhardt. The site offers one main wine deal on the homepage, as well as other wines, wine accessories, sparkling and spirits throughout the site. Wired For Wine also offers a best price guarantee, as well as free shipping on orders that qualify.
Wiredforwine.com currently ranks #171 amongst sites offering online deals -- GoingToday ranks #170. In the Food and Wine category, WiredForWine ranks at #6 -- WineExpress ranks #5. Amongst all deal a day sites, WiredForWine ranks #42 -- GoingToday ranks #41.
Top 3 Sites Like WiredForWine

Wine.Woot
Offers wine deals.

The Wine Spies
Offers daily deals on wines.

Last Call Wines
Offers deal of the day specials on wines.
More About WiredForWine
Site Snapshot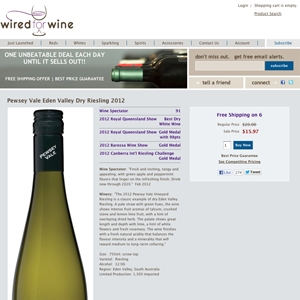 Loaction of Wiredforwine.com's Today's Deal page:
www.wiredforwine.com