Tool Authority has been in business since 1948 and online since 2004. The company specializes in selling brand name tools such as DeWALT, Milwaukee, Bosch, Porter Cable, Panasonic, Hitachi, Ramset and many more. When the company first started offering daily deals it was on the domain Onetooladay.com which was a deal a day site that adopted the Woot business model and used it to sell tools. Of course if you visit Onetooladay.com today, you will notice that it redirects to Toolauthority.com which is where you can still find the "One Tool a Day" promotion.
Toolauthority.com currently ranks #200 amongst sites offering online deals -- Uneetee ranks #199. In the Home and Garden category, Tool Authority ranks at #14 -- Moshells ranks #13.
Top 2 Sites Like Tool Authority

Tooliday
Offers tools.

Tools.Woot
Tools.Woot offers daily deals on tools & garden.
More About Tool Authority
Site Snapshot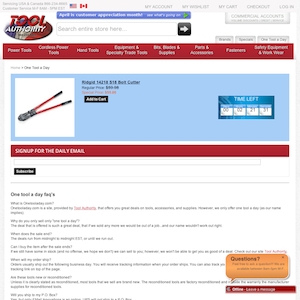 Loaction of Toolauthority.com's One Tool a Day page:
www.toolauthority.com/one-tool-a-day