Founded in 2007 and located in Rainier, WA, TinySoles is a shoe store dedicated to providing a complete selection of shoes for babies, infants, toddlers and kids. In addition to shoes, the site also carries accessories such as bags & backpacks, hats & gloves, leggings, socks, tights and more.
Tinysoles.com currently ranks #166 amongst sites offering online deals -- Housewares Deals ranks #165. In the For Parents category, TinySoles ranks at #7 -- MamaBargains ranks #6.
Top 3 Sites Like TinySoles

TinyTrekker
Offers specials on children's outdoor gear.

KidSteals
Offers daily deals on toys, kids clothing, toddler shoes and gift ideas for...

Kids.Woot
Mainly offers deals in the toy category for kids of all ages.
More About TinySoles
Site Snapshot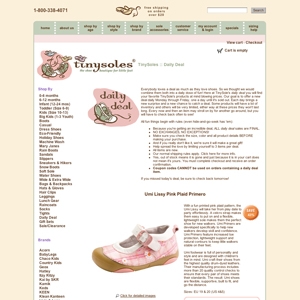 Loaction of Tinysoles.com's Daily Deal page:
www.tinysoles.com/dailydeal