Thongaday.com was founded in 2010 by Calivation LLC which also operates other deal a day sites such as Dailyidealz, Bargain Bags Daily, Roast of the Day, as well as the coffee store toydogcoffee.com. So what does Thong A Day sell? Well if you guessed thongs, you guessed right. Well, the owners have actually stated that they also offer g-strings, boyshorts and other styles of panties, but from what we've seen, they do mainly offer thongs. So where do the owners get these items? Well here's the company's explanation: "consists of brand new panties that we are able to negotiate a discount on, shelf pulls from discontinued merchandise, overstock and store closings. Sometimes, we may partner with a group for an event or fund raiser, and order our own brand".
Thongaday.com currently ranks #275 amongst sites offering online deals -- Totally-cards ranks #274. In the Apparel and Shoes category, Thong A Day ranks at #27 -- Bow Tie Expressions ranks #26. Amongst all deal a day sites, Thong A Day ranks #100 -- Totally-cards ranks #99.
Similar to Thong A Day

Hanes
Deals on clothing (mainly underwear).
More About Thong A Day
Site Snapshot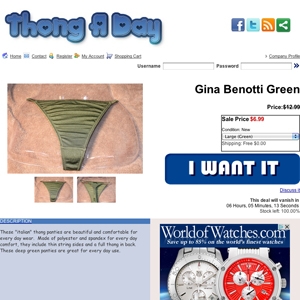 Loaction of Thongaday.com's Deal of the Day page:
www.thongaday.com