StumpsParty.com was launched in 1996 and pioneered the first website devoted entirely to the prom and party market. The site offers party supplies for proms, homecomings, dances, parades and more. In addition to supplies, the site also offers fun information such as their top 100 prom songs and a blog which offers prom guides, tips and more.
StumpsParty, also operate Shindigz which sells party supplies.
Stumpsparty.com currently ranks #110 amongst sites offering online deals -- One Step Ahead ranks #109. In the Home and Garden category, StumpsParty ranks at #9 -- Organize ranks #8.
Similar to StumpsParty

Shindigz
Offers party supplies.
More About StumpsParty
Site Snapshot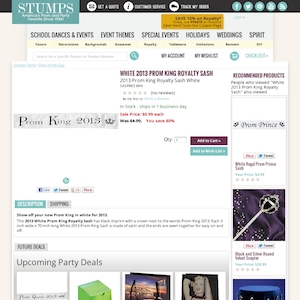 Loaction of Stumpsparty.com's Deal of the Day page:
www.stumpsparty.com/dod.cfm