Based out of Whitley, IN, Shindigz is a family owned business that has been around since 1926. The company sells thousands of party supplies that range from personalized banners, balloons, invitations, tableware and much, much more. In addition to party supplies, the owners of Shindigz also operate StumpsParty.com which specializes in events supplies for proms, parades graduations etc.
Shindigz.com currently ranks #66 amongst sites offering online deals -- RIPT Apparel ranks #65. In the Home and Garden category, Shindigz ranks at #5 -- ATGStores ranks #4.
Similar to Shindigz

StumpsParty
Offers party supplies for proms, graduations and more.
More About Shindigz
Site Snapshot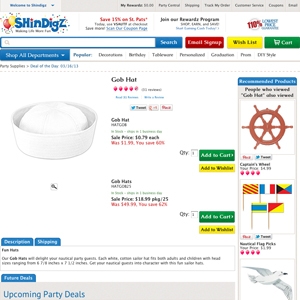 Loaction of Shindigz.com's Deal of the Day page:
www.shindigz.com/dod.cfm