SharkStores LLC was founded on March 31st, 2008 and are located in Long Island City, NY. In the past the owners of SharkStores.com operated multiple deal sites which focused on specific categories; those sites were: Alphashark.com (sold men's items), Chronoshark.com (sold watches), Diamondshark.com (sold jewelry), Shadeshark.com (sold sunglasses) and Sparkleshark.com (sold women's items). Those sites were later merged into SharkStores.com which has the deals organized into 7 categories: watches, for him, for her, jewelry, luxury, family and shades -- and sells them at up to 90% off retail. In addition to this, the owners back their products with a 110% genuine guarantee.
Sharkstores.com currently ranks #92 amongst sites offering online deals -- JomaDeals ranks #91. In the General Merchandise category, SharkStores ranks at #32 -- Jomadeals.com again ranks slightly higher at #31. Amongst all deal a day sites, SharkStores ranks #15 -- JomaDeals ranks #14.
Top 3 Sites Like SharkStores

JoyLot
Joylot.com offers general merchandise where you will find sunglasses,...

1 Sale A Day
Offers daily deals on a wide range of merchandise. Find electronics,...

JomaDeals
Offers watches, fashion and luxury items.
More About SharkStores
Site Snapshot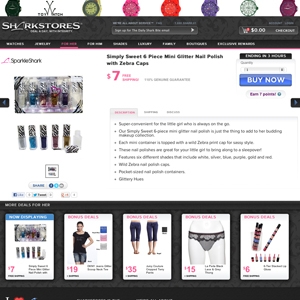 Loaction of Sharkstores.com's Deal a Day, With Integrity. page:
www.sharkstores.com