Founded in 2008 and located in San Diego, CA, Selloutz.com is a one deal at a time site that offers apparel and accessories related to action sports such as surfing, skateboarding, skiing, and snowboarding.
Selloutz.com currently ranks #243 amongst sites offering online deals -- Easy Street Deals ranks #242. In the Apparel and Shoes category, Selloutz ranks at #23 -- Hataday ranks #22. Amongst all deal a day sites, Selloutz ranks #78 -- Easy Street Deals ranks #77.
Top 3 Sites Like Selloutz

Steepandcheap
Steepandcheap.com offers clothing and accessories (gear).

Whiskey Militia
Offers electronics, clothing, sporting goods and more.

Altrec Outlet
Outlet.altrec.com offers daily deals on outdoor apparel.
More About Selloutz
Site Snapshot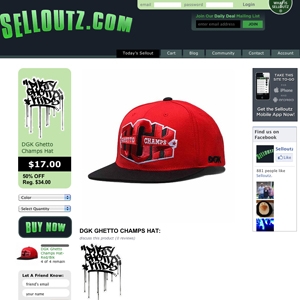 Loaction of Selloutz.com's Today's Sellout page:
www.selloutz.com