As with KidSteals and BabySteals, ScrapbookSteals is apart of the daily deal network that is run by Steal Network, LLC. and features 2 deals daily. This site was founded in 2008 and is a great place to save up to 80% off retail on scrapbooking products.
Scrapbook.steals.com currently ranks #64 amongst sites offering online deals -- Whiskey Militia ranks #63. In the Crafts category, ScrapbookSteals ranks at #2 -- Fabric ranks #1. Amongst all deal a day sites, ScrapbookSteals ranks #10 -- Whiskey Militia ranks #9.
Top 3 Sites Like ScrapbookSteals

Flowers to Flourishes
Offers items for scrapbookers.

Peachy Cheap
Scrapbooking supplies daily deal site.

Delphi Glass
Offers daily deals on a wide range of arts and crafts supplies.
More About ScrapbookSteals
Site Snapshot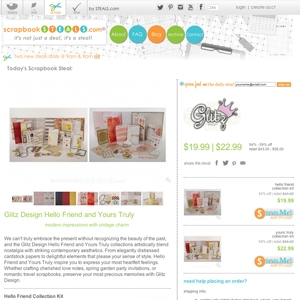 Loaction of Scrapbook.steals.com's Two Steals Daily page:
scrapbook.steals.com