Heard of PC Mall, Inc. before? Well, OnSale was launched by them in 2011 as a way to enter the daily deals market. While the site mainly offers consumer electronics, it has other products as well that range in category -- and aside from that, the site offers local deals in a few cities.
In addition to OnSale, PC Mall also operates Ecost which also offers deals.
Onsale.com currently ranks #187 amongst sites offering online deals -- Tack of the Day ranks #186. In the General Merchandise category, OnSale ranks at #55 -- Alldaymall ranks #54. Amongst all deal a day sites, OnSale ranks #48 -- Tack of the Day ranks #47.
More About OnSale
Site Snapshot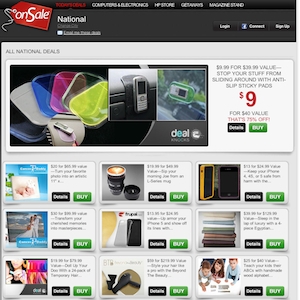 Loaction of Onsale.com's Steal of the Day! page:
www.onsale.com