With a retail store in Plainfield, NJ, Moshells has been providing customers with designer products since 1961. While the company mainly sells things for the home such as curtains, furniture, pillows and other things, they also offer some jewlery, electronics, school uniforms and more.
Moshells.com currently ranks #181 amongst sites offering online deals -- Froobi ranks #180. In the Home and Garden category, Moshells ranks at #13 -- Housewares Deals ranks #12.
Top 2 Sites Like Moshells

ATGStores
Find items for the home; furniture, lighting, faucets, knobs, rugs and...

Taylor Gifts
Offers a wide range of items; home decor items, housewares, home...
More About Moshells
Site Snapshot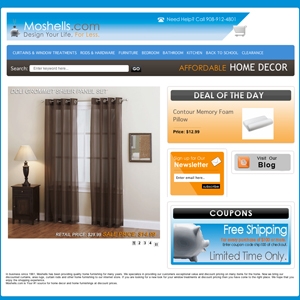 Loaction of Moshells.com's DEAL OF THE DAY page:
Link listed on the homepage (on www.moshells.com)