MamaBargains was founded in early 2008 and their site mamabargains.com was officially launched on May 19th, 2008. The site focuses on offering one deal a day on mom, kid and baby stuff with savings of up to 80% off. So whether you're a deal-seeking mom, dad, expectant parent or gift-seeker, MamaBargains is here to help.
Mamabargains.com currently ranks #133 amongst sites offering online deals -- PricePlunge ranks #132. In the For Parents category, MamaBargains ranks at #6 -- BabyAge ranks #5. Amongst all deal a day sites, MamaBargains ranks #25 -- PricePlunge ranks #24.
Top 3 Sites Like MamaBargains

BabySteals
Offers baby clothing, maternity products, baby shower gifts and more.

Baby Half Off
Focuses on daily deals for parents; jewelry for mom, clothing for the kids,...

Greenbabybargains
Offers enviroment friendly baby products.
More About MamaBargains
Site Snapshot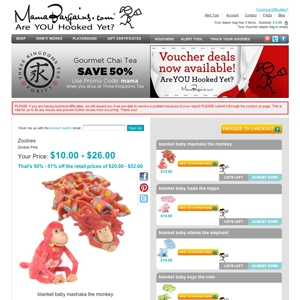 Loaction of Mamabargains.com's One hot deal at a time page:
www.mamabargains.com