When founded in 2012, MakeDirect's goal was to offer custom made furniture at up to 90% off retail, but since that time, MakeDirect have expanded their inventory and now offers highly discounted: decor items, electronics, fashion, lighting and more.
How do they do it? Here is MakeDirect's explanation: "MakeDirect was founded by an experienced team of ex-factory owners and sourcing agents, and has offices in New York, Singapore, and Saigon.", "so we know first-hand of the robbery that occurs when consumers buy overpriced products from traditional retailers. We believe in style, we believe in luxury, and we believe in quality (let's be honest, who doesn't). But, we also believe in all of those things at fair, economical and realistically-derived prices." So if you are looking for prices on factory direct items, MakeDirect seems to know how to deliver such items.
Makedirect.com currently ranks #260 amongst sites offering online deals -- 1 Deal for All ranks #259. In the General Merchandise category, MakeDirect ranks at #78 -- 1dealforall.com again ranks slightly higher at #77.
Top 3 Sites Like MakeDirect
More About MakeDirect
Site Snapshot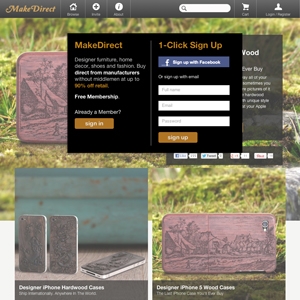 Loaction of Makedirect.com's Deals page:
makedirect.com