LocoBuy is owned and operated by Jammin' Butter, LLC., which are the same people that operate 13 Deals and That Daily Deal. Their motto is "we bring you items that are low in price, high in quality" and as with their other sites, the deals are available only for a limited time and once they're gone, they're gone.
Locobuy.com currently ranks #156 amongst sites offering online deals -- WineExpress ranks #155. In the General Merchandise category, LocoBuy ranks at #49 -- ShopNBC ranks #48. Amongst all deal a day sites, LocoBuy ranks #35 -- Deal a Day Golf ranks #34.
Top 3 Sites Like LocoBuy

IncrediBuys
Offers sporting goods, jewelry, apparel, toys and more.

BargainStation
BargainStation offers daily deals on computer related accessories,...

Jizbee
Jewelry, watches, toys and household items are just a few of the things...
More About LocoBuy
Site Snapshot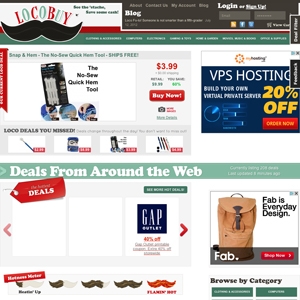 Loaction of Locobuy.com's Today's LOCO Deal page:
www.locobuy.com