Last Call Wines strives to offer the best wines from all around the world at discounts of 30% to 70% off. Now you may be asking yourself what exactly the owners mean when they say "the best wine"? Well, as Last Call Wines puts it:
"All of our selections are wines that are highly rated from The Wine Spectator, Robert Parker, Wine Enthusiast, and others"
In addition to this, some have brought up the question of whether the wines are good, and this is what the owners have to say about them:
"Nothing is wrong with any of our wines. We do all the tasting and research. You can trust us. We have years of wine buying and tasting experience.".
As for the prices being low, it's all possible due to the popularity of Last Call Wines. You see, when you have a popular site and manage to attract thousands of buyers, vineyards and producers see that as a great way to sell out their wines fast. Which is even more important when a vineyard or producer is ready to release a new vintage, but still have some wine from the previous vintage. Or, when they have a new label for a wine and don't want two labels for the same wine. In these cases they have no other option but to let go of the wine at a discounted price.
Lastcallwines.com currently ranks #207 amongst sites offering online deals -- EarlsTees ranks #206. In the Food and Wine category, Last Call Wines ranks at #10 -- Gilt Taste ranks #9. Amongst all deal a day sites, Last Call Wines ranks #56 -- BlingDaily ranks #55.
Top 3 Sites Like Last Call Wines

Wine.Woot
Offers wine deals.

The Wine Spies
Offers daily deals on wines.

WinesTilSoldOut
Offers daily deals on wine.
More About Last Call Wines
Site Snapshot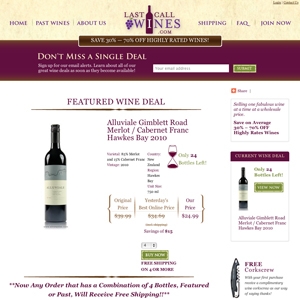 Loaction of Lastcallwines.com's Wine Deals page:
lastcallwines.com