Lacrosse.com was registered in 1994 by Former UNC lacrosse player Chad Watson and a store was launched on the domain in early 1995. On a mission to provide lacrosse players and enthusiasts worldwide with equipment and information unavailable anywhere else, Lacrosse.com carries a large selection of lacrosse sticks, equipment, footwear and apparel -- and offers gear guides which can help in choosing the right equipment.
The site is operated by Sports Endeavors, Inc. which also operates Soccer.com and a few other web properties.
Lacrosse.com currently ranks #138 amongst sites offering online deals -- Getzs ranks #137. In the Sporting Goods category, Lacrosse ranks at #15 -- Mountain Plus Outdoor Gear ranks #14.
Similar to Lacrosse

Bolt Athletics
Offers sporting goods, equipment, and team uniforms.
More About Lacrosse
Site Snapshot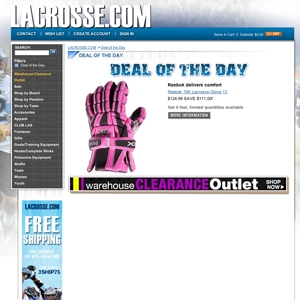 Loaction of Lacrosse.com's Deal of the Day page:
www.lacrosse.com/Navigation.process?Ne=330&Srp=24&N=840