Kids Woot! is owned and operated by Woot Services LLC. Unlike the main Woot site, which offers deals on general merchandise, Kids Woot! only offers deals on children's items; which includes everything from clothing, toys and more (even snacks at times). Of course the business model remains the same; they offer a highly discounted deal once a day.
Kids.woot.com currently ranks #12 amongst sites offering online deals -- DX Offers ranks #11. In the For Parents category, Kids.Woot ranks at #1. Kids.Woot is considered the most popular deal a day site, ranking in at #1. As for the 2nd most popular site, it's Giveaway of the Day.
Top 3 Sites Like Kids.Woot

KidSteals
Offers daily deals on toys, kids clothing, toddler shoes and gift ideas for...

Creativebrainsonline
Offers specials on children's specialty toys.

TinyTrekker
Offers specials on children's outdoor gear.
More About Kids.Woot
Site Snapshot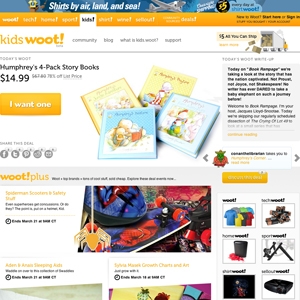 Loaction of Kids.woot.com's One Day You'll Understand page:
kids.woot.com