JoyLot was founded in 2005 and has been active since 2007 -- in these web archives you can see for yourself how the site looked back then. As you can see, JoyLot started as an online marketplace which was similar to Ebay or the Amazon marketplace for general merchandise, but over the years have established themselves as a place where shoppers can buy designer brand items -- more specifically sunglasses, watches, purses, toys, etc.
Joylot.com currently ranks #158 amongst sites offering online deals -- DasCheap ranks #157. In the General Merchandise category, JoyLot ranks at #51 -- Dascheap.com again ranks slightly higher at #50.
Top 2 Sites Like JoyLot

SharkStores
Offers specials on watches, jewelry, sunglasses and more. ...

JomaDeals
Offers watches, fashion and luxury items.
More About JoyLot
Site Snapshot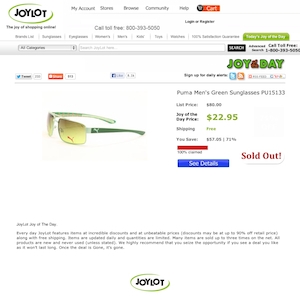 Loaction of Joylot.com's Joy of the Day page:
www.joylot.com/store_pages/Joy-Of-The-Day.cfm