Joseph A. Bank Clothiers, Inc., was established in 1905 and is a manufacturer and retailer of men's classically styled tailored and casual clothing. The company operates hundreds of retail locations throughout the US and offers the convenience of online shopping at Josbank.com. With every day savings of 20% to 30% below competitor prices and deal of the day specials that offer additional discounts of up to 90% off, Jos A Bank offers some of the best deals on quality men's clothing.
Josbank.com currently ranks #46 amongst sites offering online deals -- WorldofWatches ranks #45. In the Apparel and Shoes category, Jos A Bank ranks at #4 -- TeeFury ranks #3.
Similar to Jos A Bank

Ties
On Ties.com you will find designer ties, novelty ties, bow ties, skinny...
More About Jos A Bank
Site Snapshot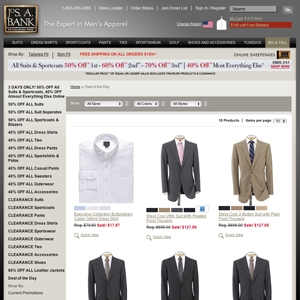 Loaction of Josbank.com's Deal of the Day page:
www.josbank.com/menswear/shop/SubCategory_11001_10050_9252000