Joe Cigar is a daily deal site that is owned and operated by Cigars International which was established in 1996. Based out of Bethlehem, PA USA, Cigars International is one of the fastest growing cigar retailers both online and offline.
Joecigar.com currently ranks #159 amongst sites offering online deals -- JoyLot ranks #158. In the Cigars category, Joe Cigar ranks at #4 -- Cigar Monster ranks #3. Amongst all deal a day sites, Joe Cigar ranks #36 -- LocoBuy ranks #35.
Top 3 Sites Like Joe Cigar

Cigar Monster
Offers daily deals on cigars.

CigarHeist
Offers daily deals on cigars. Cigarheist.com is brought to you by...

StogieBoys
Offers deals on cigars.
More About Joe Cigar
Site Snapshot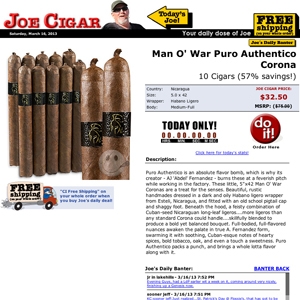 Loaction of Joecigar.com's Daily Deal page:
www.joecigar.com