Founded on January 14th, 2009 Jizbee is a New York based company that specializes is offering discounts on watches, jewelry, toys, fashion items and more.
Note that Jizbee also goes by Dizbee which seems to be their official name at this time.
Jizbee.com currently ranks #259 amongst sites offering online deals -- Bow Tie Expressions ranks #258. In the General Merchandise category, Jizbee ranks at #81 -- IncrediBuys ranks #80. Amongst all deal a day sites, Jizbee ranks #90 -- Outdoor Daily ranks #89.
More About Jizbee
Site Snapshot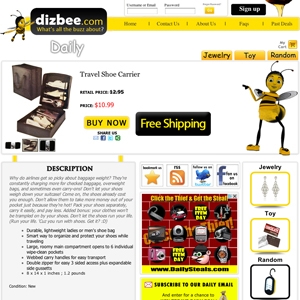 Loaction of Jizbee.com's Today's Deal page:
www.dizbee.com