eBags was founded in 1998 by Jon Nordmark, Peter Cobb, Frank Steed, Andy Youngs and Eliot Cobb. The first four worked at Samsonite and Eliot worked as VP of Finance at Wherehouse Music. When eBags.com was launched in 1999 it only offered seven brands -- Samsonite was one of them -- and its focus was primarily on luggage. Today eBags carries handbags, luggage, backpacks, laptop bags, and accessories from more than 500 brands, and it's the first place that many people think of when it comes to shopping for those items.
Ebags.com currently ranks #31 amongst sites offering online deals -- Tanga ranks #30. In the Apparel and Shoes category, Ebags ranks at #2 -- Shirt.Woot ranks #1.
Similar to Ebags

Bargain Bags Daily
Daily deals consist of bags, briefcases, laptop bags, folios and more.
More About Ebags
Site Snapshot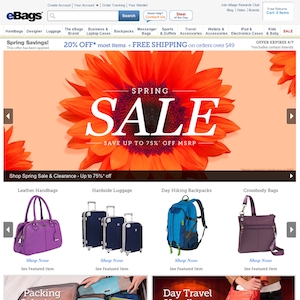 Loaction of Ebags.com's Steal of the Day page:
Link listed on the homepage (on www.ebags.com)