Directron is owned and operated by HCCI which is a wholesale distributor-manufacturer which was established in 1991. In 1997 HCCI started doing business online and in 1998 started doing business on Directron.com. Today Directron is amongst the largest ecommerce websites in Houston, Texas. The company stocks thousands of computer products from a wide selection of brands, has a 4,000 sq. ft. showroom and a 100,000 sq. ft. warehouse.
Directron.com currently ranks #77 amongst sites offering online deals -- HobbyTron ranks #76. In the Computers and Electronics category, Directron ranks at #14 -- MCM Electronics ranks #13.
Top 3 Sites Like Directron

PacificGeek
Offers computer systems, laptops, computer parts and more.

Newegg
Offers daily deals mainly on computers and electronics. Some are offered by...

TigerDirect
Offers specials on computers, electronics, audio, video, software and more.
More About Directron
Site Snapshot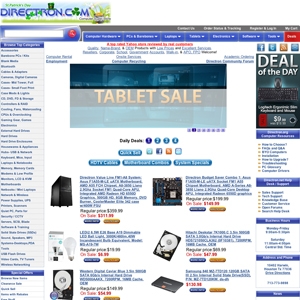 Loaction of Directron.com's DEAL of the DAY page:
Link listed on the homepage (on www.directron.com)