Dillyeo is based in Addison, IL and was founded in 2007. The company decided to adopt the daily deal business model for their business due to their ability to offer quality products at deeply discounted prices.
As Dillyeo explains it: "Due to us being specialists in the closeout business for over 3.5 decades, we know how to sniff out a deal from miles, and sometimes, continents away, and our low prices on great quality products proves just that."
Seems their knowledge paid off because many took notice of their deals... Including news organizations such as ABC7 and NBC5; see the video of NBC's coverage below:
Dillyeo.com currently ranks #203 amongst sites offering online deals -- Gilt Taste ranks #202. In the General Merchandise category, Dillyeo ranks at #58 -- Pennywise ranks #57. Amongst all deal a day sites, Dillyeo ranks #54 -- Pennywise ranks #53.
Top 3 Sites Like Dillyeo

That Daily Deal
Offers daily deals in many different categories.

Laalo
Offers daily deals on tools, computer accessories, cell phone accessories,...

Goodiyz
Offers deals on a wide variety of products.
More About Dillyeo
Site Snapshot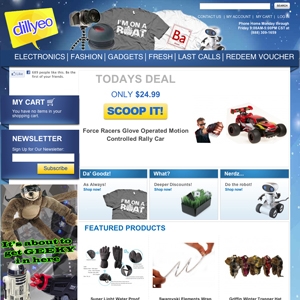 Loaction of Dillyeo.com's Daily Deal page:
dillyeo.com