Dailyidealz was founded in 2011 by the same people that operate Roast of the Day, Bargain Bags Daily, Thong A Day, as well as toydogcoffee.com. Of course Dailyidealz is different from all those sites since it offers deals on cases, programs and accessories which are only compatible with Apple devices.
Top 3 Sites Like Dailyidealz

HandHeldItems
Daily deals on accessories for handheld devices; Find accessories For iPad,...

All4Cellular
Offers cell phone parts and accessories; bluetooth headsets, batteries,...

CellHut
On Cellhut you will also find cell phone accessories and electronics.
More About Dailyidealz
Site Snapshot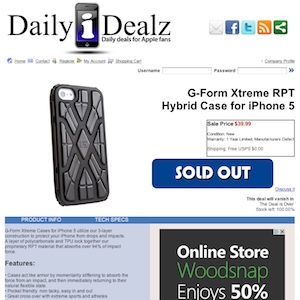 Loaction of Dailyidealz.com's Daily deals for Apple fans page:
dailyidealz.com