Cowboom is a Best Buy brand that offers consumers a risk-free way to purchase brand name new, pre-owned and refurbished consumer electronics at highly discounted prices. The Cowboom deal of the day offers products at up to 75% off MSRP.
A 30 day money back guarantee is offered on all purchases and all pre-owned products are tested by Cowboom staff members to make sure that they work. The condition of each item is mentioned on the product page and some listings even include pictures. Shipping is free and protections plans can be purchased on many items.
Cowboom.com currently ranks #54 amongst sites offering online deals -- Soccer ranks #53. In the Computers and Electronics category, Cowboom ranks at #11 -- MacMall ranks #10.
Top 3 Sites Like Cowboom

PacificGeek
Offers computer systems, laptops, computer parts and more.

Thingfling
Offers deals on general merchandise -- things like cell phone accessories,...

TechForLess
Offers specials on refurbished electronics.
More About Cowboom
Site Snapshot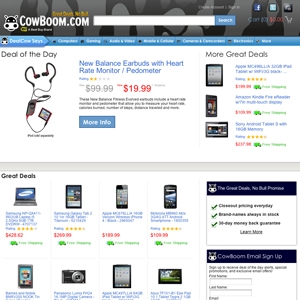 Loaction of Cowboom.com's Deal of the Day page:
www.cowboom.com/deal-of-the-day.cfm