Cinderella Wine is a daily deal site that sells wine and the sister company of Wine Library which offers a large selection of wine for all over the world. Both sites were founded by Gary Vaynerchuk which turned his father's New Jersey liquor stores into Wine Library. Gary is also the founder and host of Wine Library TV which is an internet webcast about wine.
Cinderellawine.com currently ranks #191 amongst sites offering online deals -- PacificGeek ranks #190. In the Food and Wine category, Cinderella Wine ranks at #8 -- WinesTilSoldOut ranks #7. Amongst all deal a day sites, Cinderella Wine ranks #49 -- OnSale ranks #48.
Top 3 Sites Like Cinderella Wine

Wine.Woot
Offers wine deals.

The Wine Spies
Offers daily deals on wines.

WinesTilSoldOut
Offers daily deals on wine.
More About Cinderella Wine
Site Snapshot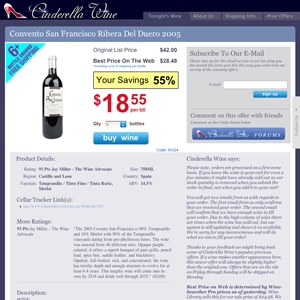 Loaction of Cinderellawine.com's Tonight's Wine page:
cinderellawine.com