Founded in 2009, Buyspys.com strives in "bringing you the best deal daily!", and in addition to their main deal, the site also has a declassified section which offers a bunch of other deals at deeply discounted prices. As for the type of the deals offered on the site, they vary and range from computer and electronic accessories, electronics, watches, things for the home and more.
Buyspys.com currently ranks #227 amongst sites offering online deals -- SparkleCartel ranks #226. In the General Merchandise category, BuySpys ranks at #65 -- Goodiyz ranks #64. Amongst all deal a day sites, BuySpys ranks #69 -- SparkleCartel ranks #68.
Top 3 Sites Like BuySpys

Jizbee
Jewelry, watches, toys and household items are just a few of the things...

1 Sale A Day
Offers daily deals on a wide range of merchandise. Find electronics,...

JustDeals
Offers computers & accessories, electronics, housewares and more.
More About BuySpys
Site Snapshot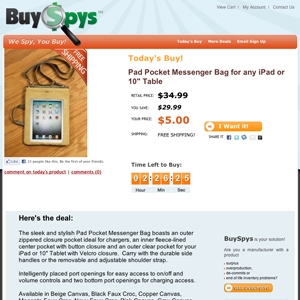 Loaction of Buyspys.com's Today's Buy page:
www.buyspys.com