BJJHQ is a daily deal site that offers discounts on Brazilian jiu-jitsu gear. The site was founded in 2011 by the owners of MMAHQ which is a very popular daily deal site for MMA gear. So whether you are looking for a place to get a good deal on gear or just place where you can hang out with other BJJ enthusiasts, BJJHQ is a great place to visit.
Bjjhq.com currently ranks #112 amongst sites offering online deals -- MidnightBox ranks #111. In the Sporting Goods category, BJJHQ ranks at #12 -- Chainlove ranks #11. Amongst all deal a day sites, BJJHQ ranks #18 -- MidnightBox ranks #17.
Top 2 Sites Like BJJHQ

MMAHQ
Deals consist of MMA gear.

Budovideos
Offers specials various products; DVDs, books, magazines, apparel, uniforms...
More About BJJHQ
Site Snapshot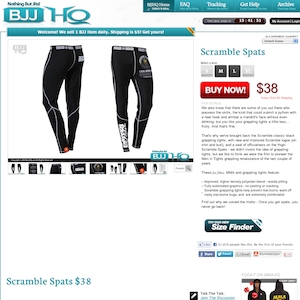 Loaction of Bjjhq.com's Nothing but Jits! page:
www.bjjhq.com