Birkenstockexpress.com is owned and operated by Footwise, Inc. of Corvallis, Oregon which is a family owned and operated retail shoe store that has been in business since 1987. The company took their first online order in 1995 and since then, has grown into one of the largest Birkenstock retailers on the web. Additionally, Birkenstock Express also offers plenty of price breaks which can be found via their bargain search which helps find low-priced discontinued styles and colors; their clearance section which offers discounts greater than 50%, as well as their deal of the day which offers surprise discounts on obscure Birkenstock imports and popular classic styles.
Birkenstockexpress.com currently ranks #168 amongst sites offering online deals -- VolumeVote ranks #167. In the Apparel and Shoes category, Birkenstock Express ranks at #16 -- Getzs ranks #15.
Similar to Birkenstock Express

DesignerShoes
Focuses on designer shoes.
More About Birkenstock Express
Site Snapshot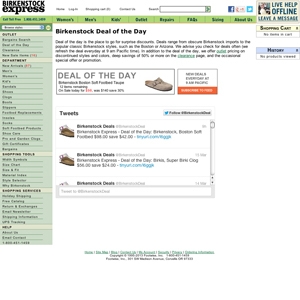 Loaction of Birkenstockexpress.com's Deal of the Day page:
www.birkenstockexpress.com/Outlet/birkenstock-deal-of-the-day.cfm