Babyhalfoff.com was launched on June 15th, 2009. The owners are located in Gilbert, AZ and strive to offer some of the best deals on brand name products for moms, babies and kids which are priced from 50% to 80% off retail.
Babyhalfoff.com currently ranks #169 amongst sites offering online deals -- Birkenstock Express ranks #168. In the For Parents category, Baby Half Off ranks at #8 -- TinySoles ranks #7. Amongst all deal a day sites, Baby Half Off ranks #40 -- VolumeVote ranks #39.
Top 3 Sites Like Baby Half Off

BabySteals
Offers baby clothing, maternity products, baby shower gifts and more.

MamaBargains
Deals consist of products that are geared towards parents and children...

Greenbabybargains
Offers enviroment friendly baby products.
More About Baby Half Off
Site Snapshot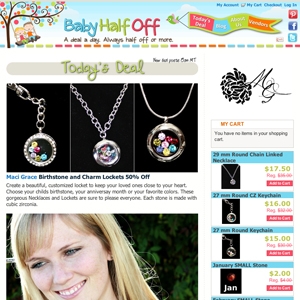 Loaction of Babyhalfoff.com's Today's Deal page:
babyhalfoff.com