135promos is formerly known as 99centpromos.com which was founded in 2010. The company is based in Tustin, CA and sells promotional products such as drinkware, pens, bags, keychains and more. The 135promos deal of the day offers a discounted promotional product which is limited to stock on hand.
135promos.com currently ranks #211 amongst sites offering online deals -- Bolt Athletics ranks #210. In the Office and Business category, 135promos ranks at #4 -- Specialty Store Services ranks #3.
Top 3 Sites Like 135promos

4imprint
Offers custom made promotional products. You can find imprinted items such...

The Daily Promo
Offers promotional products.

Specialty Store Services
Specialtystoreservic es.com offers store fixtures, supplies and more.
More About 135promos
Site Snapshot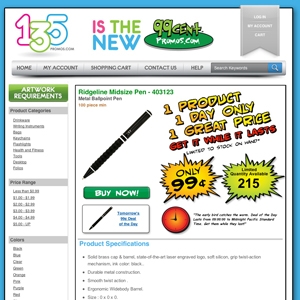 Loaction of 135promos.com's DEAL OF THE DAY! page:
www.135promos.com/ecommerce/dealoftheday.aspx